MASTER SCIENTIFIC ILLUSTRATION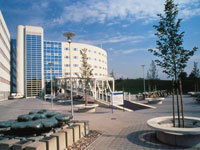 The Master Scientific illustration was founded in 1996 as a joint project of the Academy of Visual Arts Maastricht and the Maastricht University, Faculty of Medicine.
The Scientific Illustration programme is the only study programme of its kind in the Netherlands, attracting students from the Netherlands as well as other countries. Its alumni are expert visualisers of biological, biomedical and clinical topics, using a wide range of media.
The programme focuses on applications combining traditional visualisation techniques with photography (including digital photography), video and computer techniques to produce accurate two-dimensional re-presentations of three-dimensional structures. It also includes plastic modelling.
Students are provided with a solid theoretical basis, and gain practical experience in working with medical and biomedical techniques like dissection, processing microscopic and macroscopic serial sections and the products of modern medical imaging techniques like Computer Tomography (CT) and Magnetic Resonance Imaging (MRI).
The programme is offered in two variants: full-time and part-time, taking 2 and 4 years, respectively. A maximum of 6 students a year are admitted to the programme (full-time plus part-time variants).
During the final stage of the programme, students can specialise in medical, biological or biomedical illustration. Since these subjects overlap to a considerable extent, the practical and theoretical teaching programme up to the final stage is identical for all three specialisations
The programme also includes workshops and guest lectures by expert professionals.
Each of the themes consists of three to five components, and each component involves one or more assignments, which deal with various aspects of scientific illustration and in which various traditional visualisation techniques are practised and applied.
The assignments are graded in terms of complexity, leading up to the level required for professional practice.
The programme ends with a final examination, consisting of two components :
A graduation project in which each student writes, illustrates and designs a publication;
An oral examination.
In addition, a graduation exhibition is organised.
Each student composes a portfolio of representative artwork he or she has produced in the course of the programme. The printed, bilingual publication and the portfolio serve as masterpiece that help students to find jobs in national and international professional practice
Teaching programme
The teaching programme is subdivided into three themes
I Man
The theme 'Man' includes the following components :
1 the skeleton of the torso
2 the anatomical model of the torso
3 the anatomical specimen
4a life drawing
4b life drawing & portrait studies with emphasis of anatomical structure
II Animal
The theme 'Animal' consists of five components :
1 The mammalian écorché
2 The laboratory rat in vivo
3 Dissection of the laboratory rat
4 The mammalian skull
5 A second animal
III Human and Animal Surgery
The 'Surgery on man and animal' theme consists of four components :
1a microsurgery on the laboratory rat (instruments and hands)
1b microsurgery on the laboratory rat (instrument use & experimental
animal model)
1c microsurgery on the laboratory rat (illustrating a surgical procedure)

2 surgery on hospitalised patients