ÉCOLE SUPÉRIEURE ESTIENNE DES ARTS GRAPHIQUES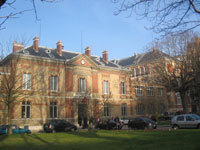 Diplôme Supérieur d'Arts Appliqués - DSAA-DIS Design Illustration Scientifique
Présentation
Estienne se qualifie comme une école qui fait le lien entre la tradition et la modernité. Le DIS s'inscrit dans cette même dynamique : pratique imaginée durant la Renaissance et popularisée sous les Lumières, l'illustration scientifique hérite d'une vision humaniste dans laquelle le partage des connaissances et la diffusion des savoirs sont considérés comme des enjeux majeurs de société. Dans le monde contemporain, les questions posées par l'émergence de nouveaux médias, ainsi que les difficultés rencontrées par le discours scientifique pour mieux rencontrer le grand public, ont totalement réactivé ces enjeux, sous un nouveau jour.
Établissement situé dans le 13ème arrondissement de Paris, il bénéficie d'une proximité avec de nombreux instituts qui sont des interlocuteurs réguliers du DIS : le Muséum National d'Histoire Naturelle, l'Hôpital universitaire Salpétrière, l'école de chirurgie du Fer à Moulin, l'IInstitut National de la Santé et de la Recherche Médicale (INSERM), l'Observatoire de Paris...
La formation
Le DSAA, Diplôme supérieur d'Arts appliqués, option Design d'Illustration scientifique, est un diplôme d'état de niveau I, c'est-à-dire Master 1 (BAC+4), qui se prépare en deux ans.
Le parcours DIS intègre dans son intitulé l'aspect scientifique constitutif de l'enseignement, qui perpétue l'origine de la formation et sa proximité avec la sphère médicale, tout en s'ouvrant
sur tous les domaines de la science (physique et astrophysique, chimie, géographie, écologie, anthropologie, etc.).
L'intégration s'effectue après avoir obtenu un DNMADe, un DNA ou DNAT, une Licence ou autre diplôme équivalent. L'enseignement, théorique et pratique, comporte entre 30 et 40 heures de cours hebdomadaires.
À l'issue de la deuxième année, les unités de valeur sont validées par contrôle continu, puis le diplôme est acquis après deux soutenances de projet devant un jury de professionnels.
Le premier jury juge de la qualité conceptuelle du projet exposé dans le mémoire.
Le deuxième évalue la démarche créative et les choix graphiques mis en oeuvre dans la réalisation du projet. L'ensemble correspond à 120 crédits ECTS et peut déboucher sur une poursuite d'étude en M2 ou la préparation de l'agrégation d'Arts appliqués.
Chaque promotion est composée au maximum de douze étudiants.
L'enseignement est constitué de cours et d'ateliers, complétés par la visite d'expositions et de manifestations liées aux enseignements de spécialité. Les étudiants assistent aussi à quelques séances de dissection ainsi qu'à des interventions chirurgicales (en partenariat avec l'Hôpital Necker - AP-HP - Faculté de Médecine, Université de Paris).
Les matières enseignées sont l'anatomie et la morphologie humaines, les lettres, les langues, la philosophie, la technologie de communication, l'infographie 2D et 3D, l'expression plastique et, bien sûr, l'illustration scientifique.
Les objectifs
Le DSAA Design d'Illustration scientifique a pour vocation de former des illustrateurs experts dans les domaines scientifiques et médicaux. L'image y est abordée dans toutes ses dimensions: numérique et technologique, didactique et scientifique, stratégique et médiatrice, narrative et dramatique, discursive et scripturale.Elle est également perçue comme un objet inscrit dans tous les enjeux sociaux et environnementaux actuels, et sa conception est envisagée de façon critique, passée au crible d'une éthique.
L'objectif de ce diplôme est de donner à son détenteur la capacité de hiérarchiser et de gérer des données conceptuelles et pratiques afin de traduire visuellement les messages qui lui sont confiés. Il sera à même d'assumer la fonction de médiateur entre les différents interlocuteurs que sont le partenaire et les illustrateurs associés.
Dans ce cadre, ce que le DSAA DIS questionne, c'est comment l'image dans sa dimension didactique et esthétique est capable de véhiculer des messages complexes auprès de publics variés.
Les études
Une quinzaine de professeurs – agrégés, certifiés, docteurs, ou intervenants professionnels participent à cet enseignement unique en France.
Première année
En fin de première année, les étudiants effectuent un stage de 3 mois en milieu professionnel en France ou à l'étranger, dans des organismes scientifiques. Un rapport de stage sous la forme d'un exposé illustré sera demandé en début de deuxième année.
Deuxième année
En seconde année, chaque étudiant présente un projet de recherche commandité par un professionnel, acteur du monde scientifique. Ce projet, assorti d'un mémoire expliquant sa
genèse, est soutenu devant deux jurys composés de professionnels et d'enseignants.
L'année est donc principalement dévolue à l'élaboration du projet final avec, au deuxième semestre, une transversalité accrue entre tous les enseignements.
Recrutement
Les candidats doivent être titulaires du baccalauréat et doivent avoir suivi au minimum deux années d'enseignements artistiques (DNMADe, d'un DNA ou DNAT, d'une licence ou d'un
diplôme équivalent ) ou scientifiques (aptitude au dessin requise).(180 ECTS validés).
La procédure comprend deux phases: une commission procède d'abord à l'examen du dossier du candidat ; les candidats déclarés admissibles sont ensuite convoqués pour un entretien.
Un très bon niveau en dessin et un réel intérêt pour le domaine scientifique sont indispensables.
La curiosité et l'ouverture sur le monde sont des qualités cruciales développées par les étudiants d'Estienne et particulièrement dans notre formation DIS.
Et après?
Intervenant le plus souvent en tant que free-lance, le titulaire d'un DSAA DIS doit savoir s'intégrer au monde scientifique grâce à ses solides connaissances dans ce domaine. Il peut en outre se spécialiser dans des disciplines tels que la médecine, la botanique, l'astronomie ou la zoologie…
Ses interlocuteurs sont la presse spécialisée, les éditeurs, les hôpitaux, les organismes de recherches, les médecins, les laboratoires, les agences publicitaires.
English
Higher Diploma in Applied Arts - Scientific Illustration Design (DSAA-DIS)
www.ecole-estienne.paris/formation/dsaa-design-illustration-scientifique
Ecole Estienne Paris qualifies as a school that makes the link between tradition and modernity. The Scientific Illustration Design (DIS) shares this dynamic: a practice started during the Renaissance period and popularized under the Enlightenment, Scientific Illustration inherited the humanist vision in which sharing knowledge and dissemination of knowledge are considered to be major challenges for society. Today, questions posed by the emergence of new media, as well as difficulties encountered by the scientific discourse to better meet the general public, have completely revived these issues and brought them in a new light.
Located in the 13th arrondissement of Paris, the school benefits from proximity to many institutes which are regular interlocutors of the DIS: the National Museum of Natural History, the Salpétrière University Hospital, the Fer à Moulin School of Surgery, the National Institute of Health and Medical Research (INSERM), the Paris Observatory, and many others.
The training
The Higher Diploma in Applied Arts (DSAA), option Scientific Illustration Design (DIS), is a level I state diploma, i.e. Master 1 (BAC+4), which is completed in two years. The DIS course includes in its title the scientific aspect of teaching, which perpetuates the origin of the training and its proximity to the medical sphere, while opening up in all fields of science (physics and astrophysics, chemistry, geography, ecology, anthropology, etc). Integration takes place after obtaining a National Diploma of Crafts and Design (DNMADe), a National Diploma of Art (DNA) or National Diploma of Arts and Techniques (DNAT), a License or other equivalent degree. The teaching, theoretical and practical, includes between 30 and 40 hours of weekly lessons. At the end of the second year, the value units are validated by continuous monitoring, then the diploma is acquired after two project defenses in front of a jury of professionals. The first jury judges the conceptual quality of the project presented in the dissertation. The second evaluates the creative process and the graphic choices implemented in the production of the project. The whole corresponds to 120 ECTS credits and can lead to a continuation of study in M2 or the preparation of the aggregation of Applied Arts. Each class is made up of a maximum of twelve students. Teaching consists of courses and workshops, supplemented by visits to exhibitions and events linked to specialist teaching. Students attend dissection sessions as well as surgical interventions (in partnership with the Necker Hospital, all hospitals located in the Paris and its surroundings (APHP) and the Faculty of Medicine of the University of Paris). Subjects taught are human anatomy and morphology, typography, languages, philosophy, communication technology, 2D and 3D computer graphics, plastic expression and, of course, scientific illustration.
Goals
The DSAA Scientific Illustration Design aims to train expert illustrators in scientific and medical fields. Images are approached in all their dimensions: digital and technological, didactic and scientific, strategic and mediating, narrative and dramatic, discursive and scriptural. The image is perceived as an object inscribed in all current social and environmental issues, and its conception is visualized in a critical manner, ethical screened. The objective of the diploma is to give its holder the ability to prioritize and manage conceptual and practical data in order to visually translate the messages that are entrusted. He will be able to assume the function of mediator between the various interlocutors. In this context, what the DSAA DIS questions is how the image in its didactic and aesthetic dimension is able to convey complex messages to varied audiences.
The studies
About fifteen professors – aggregated, certified, doctors, or professional speakers participate in this unique education in France.
At the end of the first year, students undertake a 3-month internship in a professional environment in France or abroad, in scientific organizations. An internship report in the form of a Illustrated presentation will be requested at the beginning of the second year.
In the second year, each student presents a research project sponsored by a professional, actor of the scientific world. This project, accompanied by a memoir explaining its genesis, is defended before two juries composed of professionals and teachers. The year is therefore mainly devoted to the development of the final project with, in the second semester, increased cross-functionality between all courses.
Recruitment
Candidates must hold a baccalaureate and must have completed at least two years of artistic education (DNMADe, a DNA or DNAT, a License or an equivalent diploma) or scientific (aptitude for drawing required). (180 ECTS validated).
The procedure comprises two phases: a commission first examines the file of the candidate. Candidates declared eligible are then called for an interview.
A very good level in drawing and a real interest in the scientific field are essential.
Curiosity and openness to the world are crucial qualities developed by students of the Ecole Estienne Paris and particularly in the DIS training.
And after?
Most often working as a freelancer, the holder of a DSAA DIS must know how to integrate into the scientific world thanks to its solid knowledge in this field. He can also specialize in disciplines such as medicine, botany, astronomy or zoology. Its interlocutors are the specialized press, publishers, hospitals, research organizations, medical doctors, laboratories and advertising agencies.
Further information
www.ecole-estienne.paris/formation/dsaa-design-illustration-scientifique
18 Boulevard Auguste - Blanqui
75013 Paris
Tel : 01 55 43 47 47