The Exhibition is part of the "Festival del Pensiero Plurale 2016" held in Ancona.
Realized in collaboration with Museo Tattile Statale Omero, Mole Vanvitelliana, Ancona (Italy), Banchina Giovanni da Chio 28
www.museoomero.it, info@museoomero.it
tel. +39 071 281 1935, hashtag: #museoomero
Ancona - Mole Vanvitelliana - Sala Leopardi
Inauguration Saturday 28 May h. 17.00
INFO
Tangherlini Comunicazione
Tel. +39 071 280 2604 / +39 347 339 7052
incorpore@tangherlini.it
www.tangherlini.it/incorpore.html
Curator
Francesca Di Giorgio
Tel. +39 338 580 9611
f.digiorgio@liricigreci.it
OPENING TIMES
from Tuesday to Saturday 16.00 - 19.00
Sunday 10.00 - 13.00 / 16.00 - 19.00
Monday closed

PARTNER
Università Politecnica delle Marche, Dipartimento di Scienze Cliniche e Molecolari, Sezione di Patologia Sperimentale e del Lavoro
Ambalt, Associazione Marchigiana Bambini Affetti da Leucemia e Tumore
AEIMS, Association Européenne des Illustrateurs Médicaux et Scientifiques
AIRIcerca
Tangherlini Comunicazione
Giornale Salute
Senza Età, Salute & famiglia
AZOBE' Onlus
EDRA
AMA onlus, Associazioni Marchigiane Alzheimer, Comitato regionale
PATRONAGE
Ordine dei Medici Chirurghi e degli Odontoiatri della Provincia di Ancona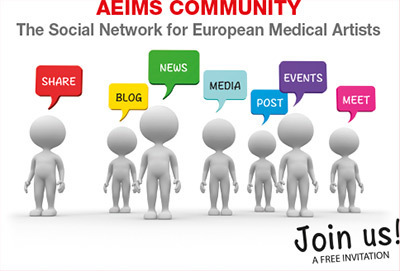 AEIMS has recently set up an online community with the aim to grow an active and engaging network of European medical and scientific illustrators.
This is an excellent opportunity to bring like-minded people together to share ideas and experiences, to meet colleagues and to enrich and strengthen our profession. To nurture an active and engaging online community, AEIMS is offering a free invitation to all accredited European medical and scientific artists. You would be connecting to members of AEIMS, MAA, IMI, MAET, BIOMAB and to people from different countries, cultures and education.
This AEIMS community works in a similar way to Facebook but is limited to invited members of recognised schools and associations within Europe. It allows members to share images, videos, create discussion topics, post their own work in an album, share information on exhibitions and events, advertise jobs, group chat or send personal messages. Members are able to create their own profile page, link up or 'friend' with whichever other members they choose. There are privacy controls, notification settings, and the community integrates with other social media platforms such as LinkedIn, Twitter, Facebook and Google.
The free invitation to MAA members does not require membership of AEIMS, only that your MAA subscriptions are up-to-date.
For further information please contact Mandy Miller
(mailme@mandymiller.co.uk)